If you just stopped laughing, then here's the link to all the crazy things that Craig Fakatoshi Wright posted few days ago.
If you got scared and interested in the heading, the story below is for you.
Australian businessman Craig Wright, the fake "founder of Bitcoin," published a shocking manifesto saying that "BTC will eventually disappear." He argues that Bitcoin is used to conduct illegal activities, and this allegedly "goes against his innovative vision of cryptocurrency."
But no worries, his "innovative vision of cryptocurrency" has just a bit more influence on Bitcoin existence than the gravity of Mars. Yes, everyone talks about money laundering and how dangerous cryptos are for the "stable and perfect" world of the modern debt economy. This time, Craig Wright decided to raise this problem. After reading his article, you might think that cryptocurrencies are the rotten apple in the current financial system that literally tries to ruin it.
If you really think that cryptocurrencies are really dangerous and are used by criminals for their criminal stuff (they launder money through cryptos, trade drugs and maybe even try to kill innocent puppies, who knows?) in this case, you should know, that there were no registered case of the innocent puppy murder involving cryptocurrencies, or even the evil blockchain. Instead, with the help of cryptos, millions of adorable kitties were bred.
Let's go back to some serious facts.
They say, cryptos are used for money laundering. Well, let's ruin this FUD. You can check the cryptomarket cap during the last 1,5 years yourself, but don't be bothered, I brought the chart to you.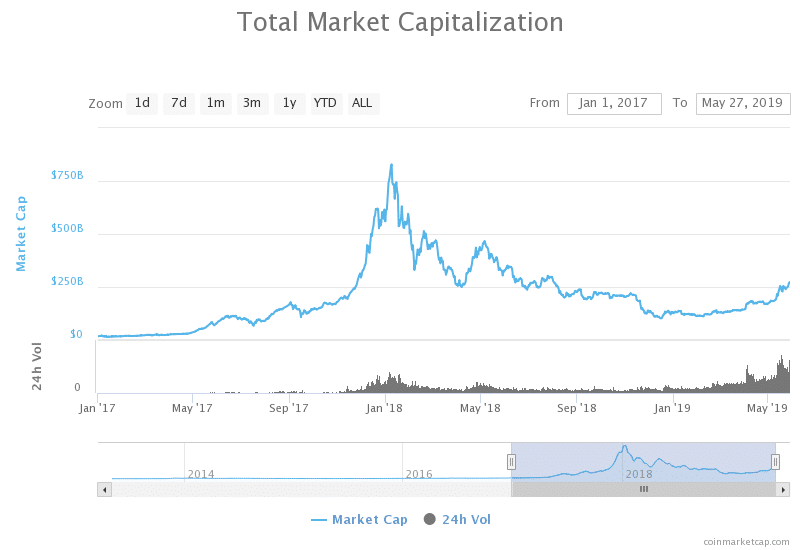 Do you see that Mr Everest there? It's just a bit over $828 bn and that figure happened only once, on January 08, 2018. Today, the total market cap is almost $273 bn. This means, that all the funds that are currently spent on all the 2200+ coins and tokens that are currently listed on the coinmarketcap website are worth $273 bn. Seems to be a lot, right?
According to some EU reports, the scale of money laundering is not more than 7-8%.
Rob Wainwright, head of Europol, has, reportedly, surmised that as much as three to four per cent of the continent's annual criminal takings ($4.2bn-5.6bn) can be getting crypto-laundered.
You can find more details about this topic in this article.
Now you are ready for The Economist's article.
The money-laundering scandal that struck Danske Bank last year was staggering. The Danish lender's Estonian branch is suspected of handling up to $230bn of iffy funds from former Soviet states.
The article is dated "Mar 7th 2019" and the total crypto market capitalization that day was $ 133 bn.
Period.