Over the past 24 hours, Eternal Token (XET) cryptocurrency has shown aggressive growth, jumping nearly 150% in price. This token has risen to the 43rd position in the ranking of the largest digital currencies of the CoinMarketCap.
The price of the coin is just over $1.66, and the market capitalization of XET has grown to $112.588 million. If the aggressive trend continues, the token may soar to $2 on Friday night.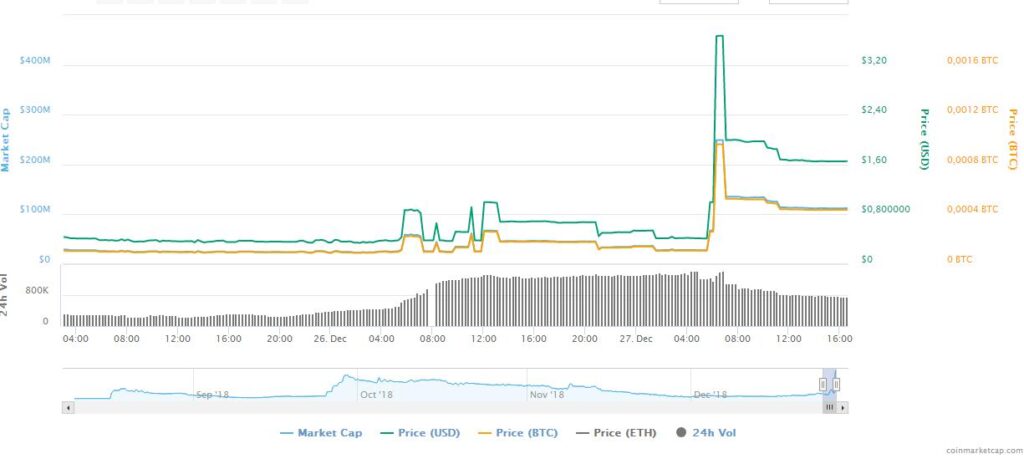 Cryptocurrency Eternal Token (XET) was developed in July 2018 by the specialists of the Japanese company Atom Solutions. The product was created as part of a project to launch a safe and highly efficient money transfer system.
According to the developers, the new coin should offer much more liquidity than the previous Eternal Coin (XEC) token.
The Twitter development team's statement states:
We are proud to announce that we are in the TOP 40 CoinMarketCap thanks to our users!
The main reason for the explosive growth of the coin was the launch of the EVOR payment system. The developers emphasized that now users on the project page can test the capabilities of the new payment system.
You can transfer funds through the EVOR platform both within Japan and abroad. In addition, the developers plan to send an application to list the token on the Binance exchange.