While everyone is discussing Ripple with its enormous price growth, there's another interesting coin that was forgotten but seems to wake up – Electroneum (ETN).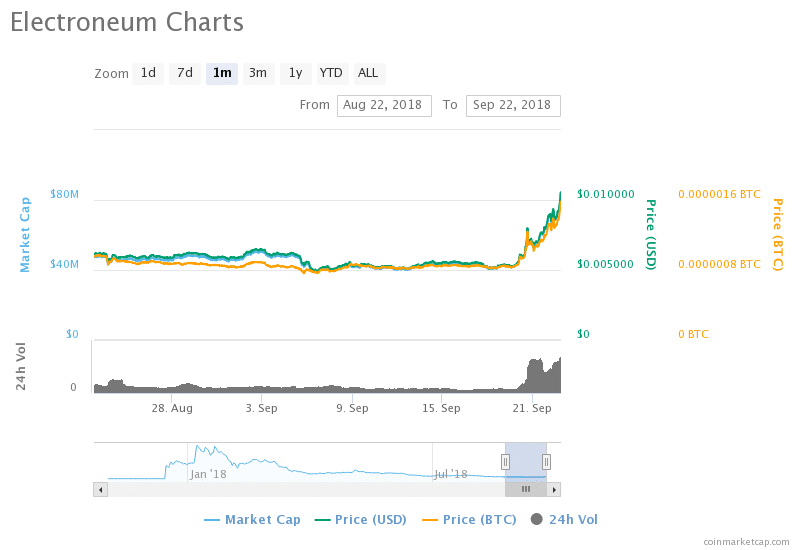 Seven days price change is 111,91% at the time of writing and 67th place by capitalization.
What are the reasons for growth?
Official website electroneum.com has no news since June 29, 2018 so the situation is unclear. Possible reasons for such a price growth can be confirmed listing on HitBTC crypto exchange. Listing on some major crypto exchanges normally pump the price of all cryptocurrencies and this seems to be the case, but there's another possible reason that can mean a lot for this cryptocurrency. But first, let's figure out, what Electroneum is all about:
the key to mass adoption is to not just ensure people can access your currency. you must ensure the currency has utility.
as with all disruptive technology, the market's entrepreneurial spirit will find ways to accept and use Electroneum as our numbers of users grow into the 10s of millions.
by making our currency available to millions of people, and allowing those people to spend our currency, we're poised to take cryptocurrency further than it has ever been.
Now let's go back in time to 6th of April this year. Electroneum team announced the pending patent on instant cryptocurrency payments. Such a system will greatly increase the speed of the mass adoption of cryptocurrencies in the world. But is it all about ETN coin only?
Our patent covers all cryptocurrencies and even allows us to provide instant payments or subscriptions in any OTHER cryptocurrency via our system.
There was a video released lately, even showing how the instant payments system works. Here it is:
Preparations for the implementation of such a system really seems to be undergoing because, if you are a user of Electroneum mobile app, there's a message on your "wallet" tab, saying:
We'll be back soon

We are currently migrating your wallet to the new instant payments system. Please try again later.
So, the launch of this system will happen soon, it's confirmed.
Conclusion
Instant payments system by Electroneum is being implemented right now and, once it is live, it has all the chances to become widely-spread and it will greatly increase the speed of the mass-adoption of cryptocurrencies in general.
I won't even try to make any predictions on the price of ETN if this payment system will be a success, but as we all know, things that are in demand always have high value.