Now there are some changes in the cryptocurrency market today. More specifically, the changes relate to the XRP coin. This coin has received a major update, due to which it actively integrates into the banking system. This fact gives all grounds to believe that in the future XRP will be used as widely as possible, same as bitcoin, and now we can already observe how the active build-up of its leading positions on the crypto market is taking place.
XRapid Technology
Within a few months, Ripple will have a new technology called xRapid, which will largely affect the existing rules of the game. Until now, many banks and financial structures around the world have used the technology called xCurrent and with the introduction of xRapid they will have the opportunity to use XRP tokens. If this really happens, then the coin will get global distribution and its price and capitalization will literally skyrocket. Unfortunately, at this point in time, it's impossible to say something more specific about xRapid technology, except that it is about to start soon. There is no information.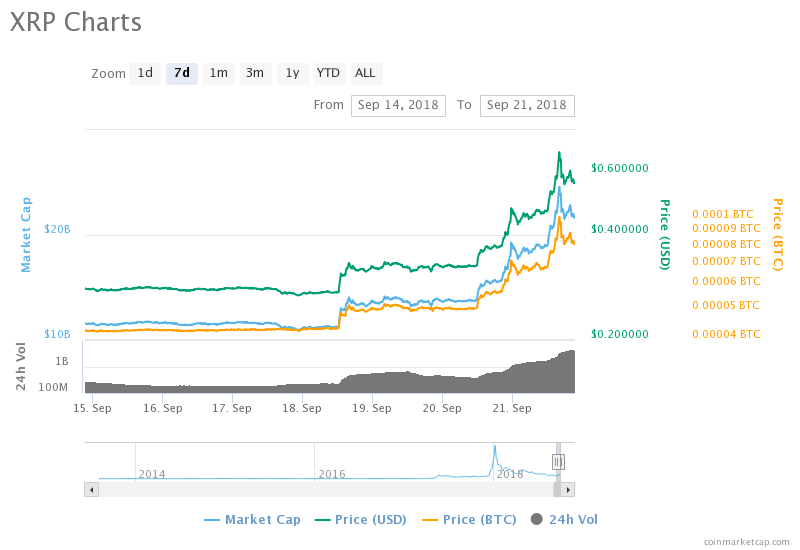 Codius project
This is one of the very first platforms for smart contracts. The technology was developed and presented by Ripple, but they did not use it in that time, because considered that it will not receive its development, like smart contracts in general. However, Etherium took care of the fact that smart contracts got their popularity and Ripple decided to resume their project several months ago. The platform Codius practically has no differences analogs such as Ethereum, Tron and Stellar. The Bitcoin team also tried to initiate some smart contracts on its platform, but due to the buggy Bitcoin itself, users went to other developers' platforms. It is for this reason that platforms such as EOS and Ethereum have become leaders, but when Ripple finally completes and runs Codius, the alignment of forces can be greatly changed. At the moment, Codius has every chance to take a dominant position due to the speed of transactions that Ripple can provide. Just as in the case of xRapid, there is no exact launch date or other detailed information at this time.
Cobalt update
Additionally, to all the facts mentioned above, the Cobalt update for XRP itself also comes out. This update will allow XRP to get even faster than it is now. The Ripple website has a comparison of the speed of the coin with the nearest competitors ETH and BTC, as well as there is information that they currently have 1,500 transactions per second, but, if necessary, this number can be increased to 50,000 transactions per second.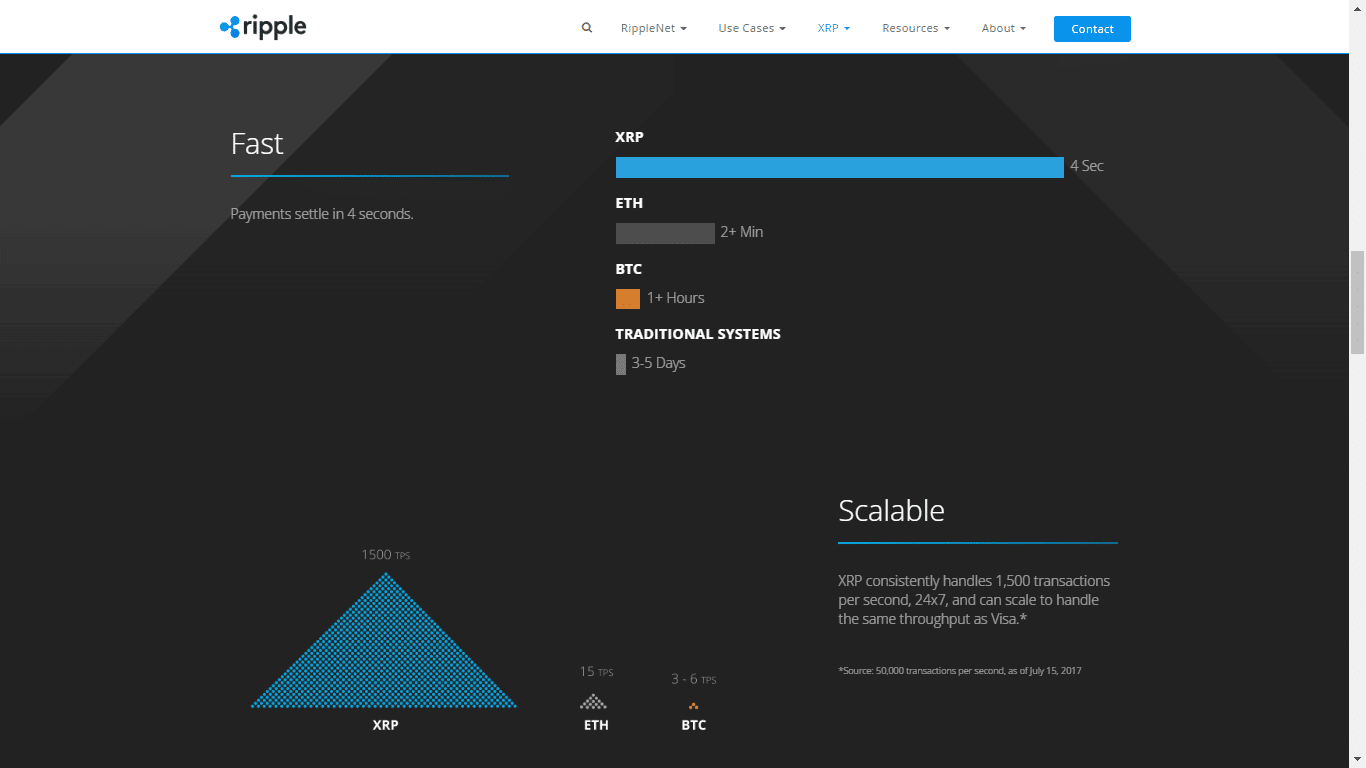 Thus at Ripple, your transaction takes 3-4 seconds, and the same Bitcoin it takes a few minutes. Updating Cobalt will allow you to reduce to 1 second an already short time frame for cross-border transfers.
And in addition to all the above, do not forget about the merger of the three projects Ripple – xCurrent, xRapid and xVia, under its XRP coin, which will inevitably lead to a colossal increase in its price and capitalization.

Of course, to avoid disputes which coin is better than never will be possible, but now many people get the impression that the real chances to get truly global distribution and dominance on cryptomarket have only XRP, as, in fact, Ripple becomes the only project that starts to promote the cryptocurrency among institutional investors using interbank. I want to believe that such a multibillion-dollar company like Ripple cannot just make loud statements, based on nothing, about the release of a new product and hope that everything will at least work somehow. The company should be sure if not in exceptional perfection, but at least in the performance of its products. How well-performing and quality products will be – the development of Ripple and the time will show, but at the moment, it would be very stupid to lose sight of this project. Be sure to follow the development of events on our website.