It seems that many cryptocurrencies nowadays are doing everything to become capable of beating VISA system in the field of speed, measured in transactions per second (TPS), totally forgetting of what the real values of cryptos are. Ripple does it's best to gain as high tps as possible, but being misleadingly marketed, not needed within their own network, and have centralized ownership/validation – the things that are crucial for the cryptocurrency. Bitcoin Cash, that looks like a scam for many reasons which attempt to inherit brand recognition and provide the minimal technological advantage to incumbents is missing the true value that should be a must for any cryptocurrency.
Satis Group, which provides consulting services in the field of ICO, made a forecast for the future cost of bitcoin. The agency believes that within five years the digital coin price will reach $ 96 thousand. As for the other cryptocurrency, then the company's forecasts are disappointing but expected. For example, the researchers believe that the price of Bitcoin Cash will drop to $ 180, and XRP should expect a collapse – the virtual currency price will drop to $ 0.01.
Upside (5-yr) In BTC ($96k), XMR ($18k), and DCR ($535), cryptoassets which apply unique value propositions within deep and viral markets
In its new report, consisting of 5 parts, Satis Group analyzes how the cryptocurrency market is evaluated and whether this assessment corresponds to the real value of the assets behind it. The authorship report of Sherwin Dovlath and Michael Hoddap also provides a forecast of how the cryptomarket will look in the next few years.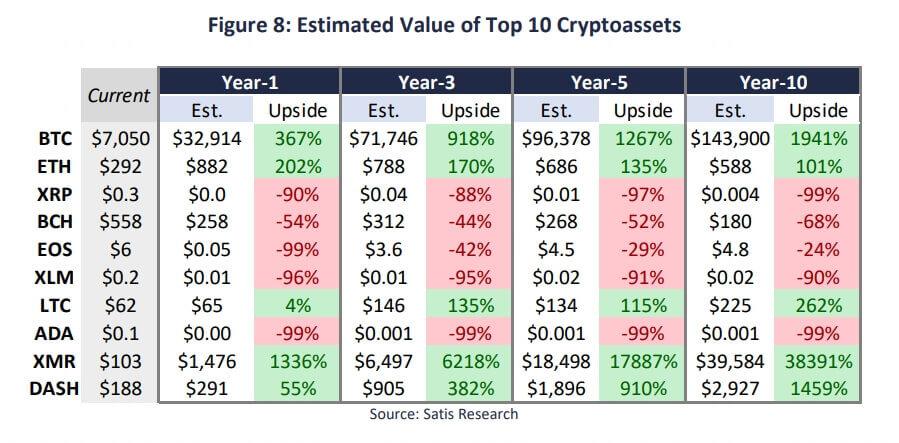 Authors of the report tried to predict how the courses of different cryptocurrency will look in 5 years, evaluating digital assets by qualitative characteristics, rather than by market dynamics. As a result, it turned out that the prices of cryptocurrencies like bitcoin, Monero, and Decred should grow significantly because they are "cryptoassets with unique and valuable offers, possessing deep and popular markets."
In their calculations, the authors used a combination of peer-to-peer metrics, quantitative theories, discounted cash flow models and methods of economic forecasting.
Studies of Satis Group show that bitcoin (BTC) will continue to dominate the market for more than one year. The study claims that the BTC will be worth about $ 96 thousand by 2023 and will be able to reach $ 144 thousand by the end of the next decade.
"We continue to believe that BTC and its network effect will dominate the digital currency market due to increased liquidity and purchasing power, brand awareness, its place in the underlying trading pair on the market, lower volatility, a relative lack of attacks on the network, lower bandwidth network and possible aggressive jerks of the course, "the report says.
The next most valuable cryptocurrency after bitcoin is Monero (XMR), which Satis Group forecasts will grow to $ 18,000 over the next five years. By 2028, the Monero rate is estimated at $ 39 thousand. In percentage terms, Monero will rise in price by 38,000%.
Satis Group assumes that the most undervalued assets on the market are anonymous means of payment. The company believes that the network effect, similar to that which occurred with bitcoin, will be repeated in the near future and with coins focused on confidentiality.
Zcash (ZEC) and DASH, being also anonymous cryptocurrencies, in 5 years will be estimated at $ 4,400 and $ 1,900 respectively. After 10 years, their rate, according to researchers, can be $ 9 thousand and $ 3 thousand.
Litecoin (LTC), as predicted, will never reach its record $ 375 mark again, and in the 10-year perspective, its value will reach a maximum of $ 225.
Ethereum (ETH), now the second largest cryptocurrency by market capitalization, according to researchers, will grow in price in 2019 to $ 882, and then its rate will be reduced by about $ 100 every 3 years. This prediction is agreed by CEO of BitMEX Arthur Hayes, who criticized Ethereum, called it "shitcoin" and predicted the collapse of the price below $ 100.
Other assets from the current top 10 cryptocurrencies by market capitalization will feel much worse than Litecoin and Ether.
Ripple (XRP), for example, will eventually be valued at $ 0.004 in 10 years. The exchange rate of Stellar (XLM) will be $ 0.01-0.02 over the next 10 years. Cardano (ADA) will fall to $ 0.0001 for 10 years.
EOS, according to calculations of Satis Group, will fall by $ 0.05 per year and in 10 years will reach $ 4.50-4.80 per coin. Bitcoin Cash will systematically decline to $ 268 by 2023 and in 2028 will reach $ 180.