Venezuelan economic crisis touched Justin Sun, co-founder of Tron (TRX). He said that Petro, the country's new currency, should have been associated with Tron, not with Ethereum, as reported by bcfocus.com
Obviously, Justin Sun is very responsible for the promotion of the Tron cryptocurrency, as evidenced by the post on Twitter, where he protested to President Nicolas Maduro. He said that if Petro should be used, it should be tied to the Tron, not to the Ethereum.
The post of Justin Sun appeared after the tweet Maduro, who announced the adoption of the "Sovereign Bolivar". The President of Venezuela said that the government will achieve stability of economic and macroeconomic balances for the benefit of all Venezuelans.
We managed to find the screenshot of this tweet, not the tweet itself though.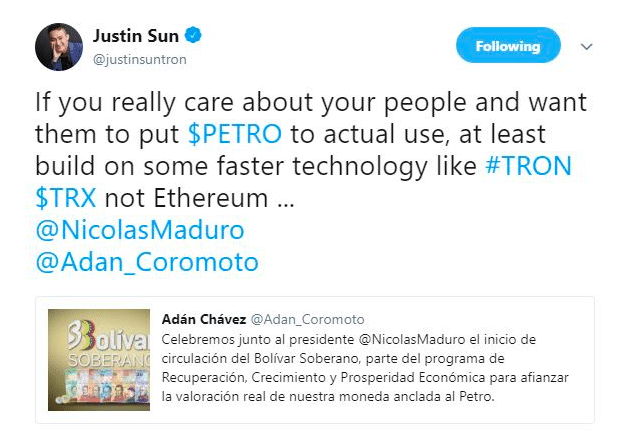 This is not the first time that Justin Sun set his sights on Ethereum, and the CEO repeatedly stated that "the Tron network is much faster than the Ethereum network." According to him, TRX has a significantly higher transaction speed on the network, referring to figures such as 2000 transactions per second in the Tron network compared to 25 Ethereum transactions.
See also: Ethereum: the shitcoin that will fall down below $100
Earlier, Justin also said that the global team of Tron is more conducive to growth, mentioning the recently held global meeting in San Francisco. The co-founder commented that in the future TRX will be 200 times faster than the Ethereum network, the cryptocurrency is aimed at processing more than 100 million transactions a day.
Petro – ambiguous Venezuela's cryptocurrency
Over the past few weeks, Petro has attracted much attention with the introduction of the Venezuelan financial flow. Cryptocurrency was first announced in December 2017, when the Venezuelan government issued whitepaper. To create the value of the cryptocurrency, the government allocated 5 billion barrels of oil to it.
This step was intended to win to the cryptocurrency the same confidence that people had to oil. Thus, the local press stated that each coin would be supported by the price of a barrel of oil, returning the country to an economic environment with a predominance of oil. The cost assigned by the government now is $ 60 per token, just above the currently set value of $ 42 per barrel of oil.
Justin Sun's reaction caused mixed reviews among members of the cryptocurrency community. Someone said that the Venezuelan economy and its Petro – the last thing Tron needed was that it would destroy the coin and force all American traders to leave. Others thought that the adoption of TRX by the government would be a clear success.