Contrary to the statements of Bitcoin Cash supporters who promised to create a better version of bitcoin, which will be popular as a payment tool, the cryptocurrency is barely used in commercial transactions. This is written by Bloomberg referring to the analysis of the Chainalysis company.
A study of 17 major processing services, such as BitPay, Coinify, and GoCoin, showed that the volume of payments using Bitcoin Cash fell to $ 3.7 million in May after reaching a peak at $ 10.5 million in March. With the help of bitcoin in May, payments were made for $ 60 million against $ 412 million in September.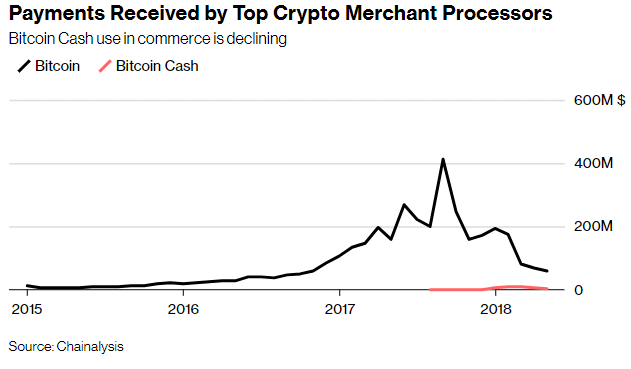 Despite the aggressive promotion of Bitcoin Cash that caused some sources to call it a scam, it seems to fail to become number one cryptocurrency. Furthermore, current BTC dominance is increasing that makes Bitcoin Cash look even worse.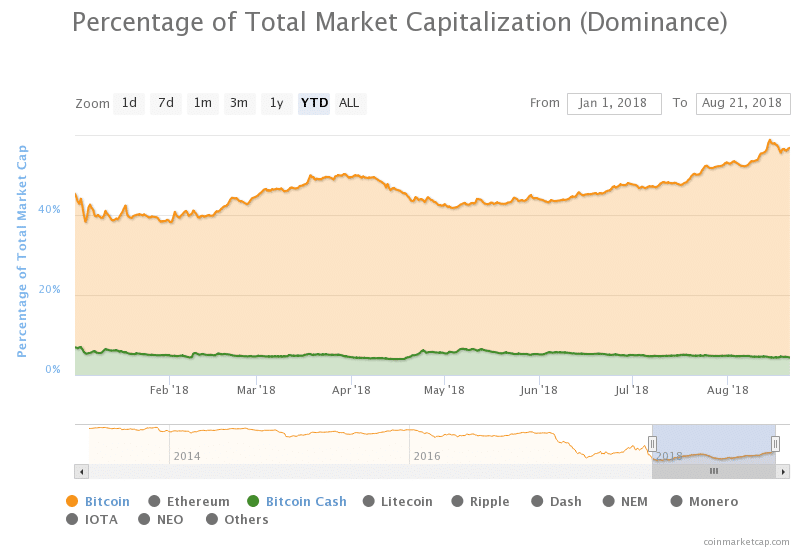 According to CoinMarketCap, current BTC share of the crypto market is 52,43% and the share of Bitcoin Cash is 4,37%.
The main idea of Bitcoin Cash was to become the means of payment in e-commerce. Currently, the adoption in e-commerce is low partially because of the concentrated ownership of the cryptocurrency. According to Chainalysis, about 56 percent of Bitcoin Cash is controlled by 67 wallets. Such situation could be normal if the owners of these 67 wallets were crypto exchanges, but they are not.
Earlier this year, we've seen the great attempt towards adoption of Bitcoin Cash in e-commerce through Amazon and the Purse service, which added Bitcoin Cash as a payment method.
Earlier this year, BCH was accused in fake decentralization and in low GitHub activity.
Difference between $BTC and #bcash #bcrash ???? Well, there you go…. pic.twitter.com/AZiUk8eMRc

— ⚡️Darth Maul⚡️ (@malimujo) July 15, 2018