Ether's technical recovery from the 100-day low hit yesterday looks to be a "dead cat bounce."
The world's second largest cryptocurrency by market capitalization, which traded around $740 a week ago, fell to $460 on Sunday – its lowest level since Dec. 11. The 37.8 percent fall looks to be associated with ether-specific news flow and broad-based risk aversion in the crypto markets.
Last week, a senior official of the U.S. Securities and Exchange Commission (SEC) said the agency is investigating "dozens" of initial coin offerings (ICOs) – news that seems to have weighed over ether, given the ethereum blockchain serves as a platform for token creation via its ERC-20 standard.
Further, ETH's drop below $500 yesterday coincided with reports that the EOS team is releasing about 400,000 ETH tokens on the market. While the EOS token is built on ethereum, it is widely considered a crypto competitor.
Currently, ETH is trading at $535, having clocked a high of $556 earlier today, according to CoinMarketCap. The retreat from the intraday high suggests the rally from $460 was likely a "dead cat bounce" – a correction in a bearish trend.
Daily chart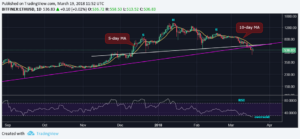 The above chart (prices as per Bitfinex) shows that the head-and-shoulders breakdown seen last week confirmed a longer-term bullish-to-bearish trend change.
However, the oversold conditions, as highlighted by the relative strength index (RSI) and the previous's day long-tailed candle (signals bearish exhaustion) indicate ether will likely trade in the sideways manner for the next couple of days.
The upside could be capped around the descending (bearish) 10-day moving average (MA), while the previous day's low of $452 could act as a strong support, given the oversold conditions.
View
Ether could consolidate in the range of $630-$550 over the next 48 hours.
Only a daily close (as per UTC) above the head-and-shoulders neckline resistance (former support) of $640 would abort the bearish view.
Bearish scenario: Repeated failure to beat resistance at $565 (Feb. 6 low) could yield a bigger sell-off to $385 (Nov. 30 low).